Father's Day is rapidly approaching, and many wives and children are on the annual quest to find a token of affection for their husband, father, grandfather, or father figure. With the growing popularity of DIY, many present-seekers opt for handmade gifts, such as a bar of soap or scented candle, to ensure that their offering is made with love and has a personal touch. While Rose and lily-scented men's soaps exist, most Father's Day gifts are made with a more musky, traditionally masculine scent. Nature's Fusion Cedarwood Oil is a popular choice for the fellas, either as a stand-alone oil or in a DIY craft, because of its warm, woodsy scent. So, if you're considering harnessing the rich aroma of cedarwood for a loved one (or for yourself), take a moment to explore the inner working of cedarwood oil's unique chemical composition and historic origins.     
A New World Spin on an Ancient Perfume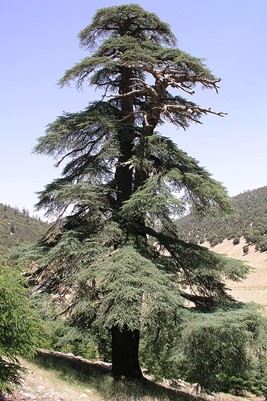 Fig. 1 A mature Atlas cedar tree in Morocco. Wild Atlas cedars provide habit for birds and small mammals, including the endangered Barbary Macaque, a sociable golden-furred monkey. Atlas cedar are also popular as decorative trees in North America. In fact, one of these trees was planted at the White House South Lawn in Washington, DC in the 1970's to support a treehouse for President Carter's children. 
The ancient Egyptians were famous for respecting and meticulously preserving their dead. You may be familiar with their embalming practice of removing their deceased family member's organs and storing them in religiously marked containers, called canopic jars. Doesn't paint a pleasant picture, eh? To reduce funeral costs, ancient Egyptians would instead inject cedarwood oil into a prepared body, which perfumed it and eliminated the need for organ removal. Sounds like a much more pleasant and fragrant experience to us! Cedarwood oil was regularly used in this alternative embalming technique, but it was also a popular perfume in the primeval world. Egyptian cedarwood oil was extracted from Lebanese cedar (Cedrus libani), however many cedarwood oils on the market today are a hodgepodge of cedar, pine, and juniper oils. Nature's Fusions' Cedarwood oil comes exclusively from Atlas cedar (Cedrus atlantica), a subspecies of Lebanon cedar originally discovered in the mountainous regions of North Africa (fig.1). By growing Atlas Cedar in the states and steam-distilling the product domestically, we provide an oil that is fresh and true to the original scent and properties of ancient cedarwood oil.
The Dynamic Duo in Cedarwood Oil
Our cedarwood oil contains over a dozen of naturally occurring organic chemical structures, however the most plentiful molecules in the mix are beta-Himachalene (38.92%) and alpha-Himachalene (15.69%). Both molecules are a combination of 15 carbon atoms and 24 hydrogen atoms, just put together in slightly different arrangements (Fig. 2). Both of these himachalane molecules have an innately strong scent, and together they help create cedarwood oil's rich symphony of scent.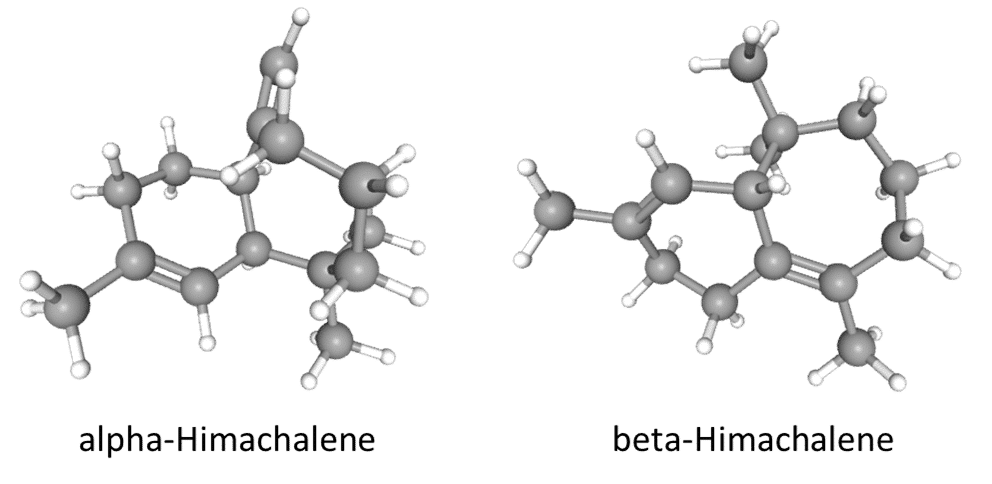 Fig. 2 Chemical structure of alpha-Himachalene (left) and beta-Himachalene (right) molecules. Carbon atoms shown in grey with hydrogen atoms shown in white. Their different shapes suggest that each type of molecule plays a unique role in protecting the Atlas cedar tree causes of distress.
Now that we've explore the historic use of cedarwood oil, the ecology of cedar trees, and the sub-microscopic nuts and bolts of its unique scent, we hope you feel excited to make this rustic-smelling oil a part of your life. Or, consider giving your father the pharaoh treatment this year with some lovely cedarwood oil, or a homemade cedarwood craft!