A nostalgic combination of oils brings the smell, and memory, of baking cookies, spiced cider, fir trees, and happiness to life. Warm holiday memories.
Made with Orange, Nutmeg, Balsam Fir, Cinnamon Bark, Cassia, and Vanilla Absolute
Myrrh has been used for centuries as an ingredient in incense, perfumes, and for embalming and fumigation in Ancient Egypt.
Myrrh can enhance spirituality and can aid meditation. Diffuse for spiritual grounding or apply topically in 5% dilution to skin.
Try blending with Frankincense, Lavender, Patchouli, Rose,  Sandalwood, Tea Tree, or Thyme.
Peppermint leaves are used all over the world to season food, freshen breath, and perfume. Our peppermint essential oil is steam-distilled from Mentha piperita leaves grown in India.
Peppermint contains a high amount of menthol, which causes topical cooling. It is excellent for improving the appearance of reddened skin and providing a relaxing mental experience. Added to a massage blend, peppermint is great for soothing.
Try blending with Basil, Lime, Marjoram, Pine, Rosemary, Spearmint, or Thyme.
Our cinnamon is steam-distilled from the very thin, smooth bark of Cinnamomum zeylanicum trees grown in Sri Lanka. These trees are indigenous to Sri Lanka and are now commonly grown in Madagascar. It is a tropical evergreen tree in the laurel family that can grow up to 45 feet tall in the wild. The tree has a highly fragrant odor and is commonly used in small amounts as a spicy addition to creams, lotions, and soaps.
Cinnamon is a favorite spice and essential oil because it is reminiscent of baked goods, chocolate covered candies, and has lots of practical uses. This essential oil also makes its debut in our cleansing and protective blends. It brings a natural warmth and spice that's sure to uplift and rejuvenate wherever it goes! Try blending cinnamon with Frankincense, Lavender, Cedarwood, Orange, Lemon, Neroli, Ylang ylang.
The pine tree grows around the world and can reach heights of over 100 feet tall. Our pine essential oil is steam-distilled from the needles of the Hungarian Pinus sylvestris.
Pine Oil has a long history of use in the sauna, steam bath, and as an additive to baths and massage products.
Try blending with Citronella, Cypress, Tea Tree, Juniper, Myrrh, or Rosemary.
One of our most popular blends. Based on the ancient recipe used by corpse robbers in the time of the plague, with updates informed by modern research.
Mix into cleaning solutions, add to hand sanitizer/hand soap, diffuse for a protective scent.
Orange essential oil is great for lifting the spirit and improving the appearance of dull skin. Diffuse or apply topically in 2-5% dilution.
There is some argument, but it is believed that sweet orange was brought to Europe by the Arabs in the First century along with the bitter orange.
Try blending with Myrrh, Sandalwood, Clove Bud, Cinnamon Bark, or Bergamot.
Balsam Fir is the most popular variety of Christmas tree because of its familiar scent.
Fir Balsam essential oil is reported to produce dermatitis when applied as perfume in concentrated form. Use well diluted.
It can blend with Pine, CedarWood, Lavender, Black Spruce, or Rosemary.
Spearmint Essential Oil has a fresh minty smell reminiscent of Peppermint. The major difference is that Spearmint oil is sweeter, and not quite as harsh.
Useful for skin and massages. Aromatically, it stimulates the nerves, provides balance and grounding, and restores the mind.
Yes, it blends with Basil, Birch, Bergamot, Eucalyptus, Jasmine, or Rosemary.
Refreshing experience and odor control: This blend opens pathways and increases clarity! A fusion of laurel leaf, lemon, 2 types of eucalyptus, mints, and herbs designed for a refreshingly clear experience.
Filling a room with Crystal Breath can be a great way to eliminate unwanted odors. Apply to hands and breathe during intense activity or stress for open thoughts and increased clarity.

Apply to hands and breathe deeply, diffuse, rub in a 5% dilution on chest or upper lip. Apply sparingly.

Frankincense is from the French word 'Franc' meaning 'luxuriant' or it could be 'real incense'. Also known as Olibanum, Frankincense was used by the ancient Egyptians as an offering to the gods and as a rejuvenating face mask.
Frankincense originally comes from the scraggly Boswellia carterii tree originally grown in the Middle East. Harvesters slash the bark of the tree, and, over time, a sticky resin oozes out of the tree. Our Somalian frankincense oil is steam-distilled from frankincense resin.

Frankincense essential oil is used to improve the appearance of damaged skin. It is also commonly used to bring balance and peace through meditation. Apply topically in a 2-5% dilution, or diffuse for a deep, relaxing effect.


The Gaultheria procumbens plant has a sweet, candy-like scent that continues into its essential oil, which is used to flavor candies and carbonated beverages. Our Wintergreen essential oil is steam-distilled from Wintergreen leaves grown in India.
Wintergreen is the "fire" in Fire & Ice–our muscle blend–and has a fantastic warming ability. Diffuse into the air or apply topically in 2-5% dilution (18-45 drops of oil to a 30ml bottle of carrier oil).
This one
That one
Maybe this one
Or that one
We asked everyone in the office to find out the fall favorites. 
Winter Essential Oil FAQs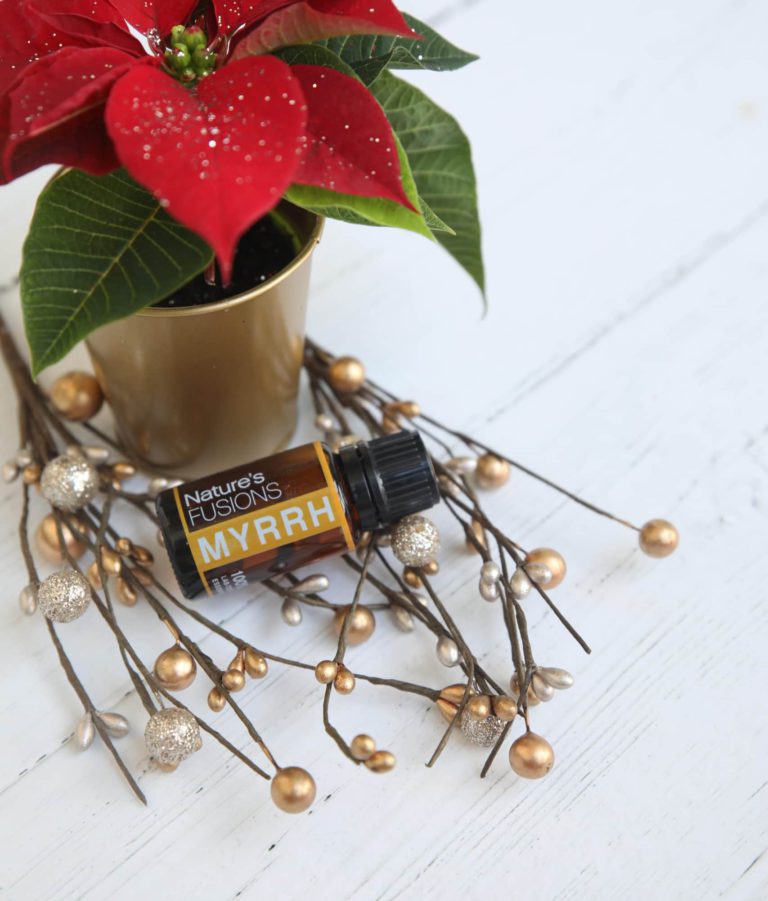 Myrrh is probably best known as one of the lavish gifts that the wisemen brought to honor the baby Jesus. At the time, the myrrh
Read More »
Walking in a Winter Wonderland
Sing Christmas Songs
Gather Around a Campfire
Make Some Wassel
Make a Snowman
Decorate Christmas Tree
Drink Spiced Cider
Diffuse a Favorite Winter Scent
Light a Fire
Watch a Movie
Snuggle on the Couch
Drink Hot Chocolate
Finish Holiday Shopping
Give Warm Hugs
Pull Out Your Winter Wardrobe