Summer is officially over for the year, but that doesn't mean that you're free and clear of sunburns, dry skin, and general skin irritation. In fact, with the weather turning colder and the prospect of weekends on the slopes a matter of weeks away, it's safe to say that there's a good chance you'll find yourself looking for ways to soothe your skin just like you did during the summer.
Soothing the Skin with Essential Oils
Soothing is our skin rejuvenation blend, and it's aptly named, given its ingredients and purpose. It's been designed to improve the appearance of compromised skin. Containing three potent essential oils, this blend is quite simple, especially when compared to some of our other blends that have several more ingredients. Don't let the simplicity fool you though. The oils that were chosen to be a part of this blend were picked specifically for their capacity to benefit the skin. Geranium is used topically to improve the appearance of the skin and is especially good for oily, dry, or mature skin. Helichrysum can improve the appearance of open, irritated, or reddened skin. Last on the list is Lavender. This most popular of essential oils is beneficial not only for its well-known relaxing qualities, but also for going that extra mile to take care of your skin. This stellar skin blend is designed to do just that—soothe. So anytime your skin needs a little TLC, use some Soothing.
When applied topically essential oils are powerfully potent. If your skin is sensitive, be sure to dilute these oils with a carrier like our organic fractionated coconut oil during application. If you're looking for something quick and easy, check out our easy-application roll-ons that have coconut oil in them for worry-free use!
Lavender Essential Oil for Skin Care
In order for any essential oil to be as powerful as possible, whether in terms of aromatherapy benefits or skin care, the plant it comes from must be of the highest quality. That's why we source our Lavender essential oil from the flower tops of the Lavandula angustifolia plant, grown in the mountains of France. The fields we source from were planted in the 20th century to replace those that had been completely harvested by the end of the previous century. The hot, dry climate and chalky soils found at altitudes over 700 m of the area are crucial to the production of the finest quality lavender.
Lavender can do some truly amazing things when it comes to caring for your skin. It can help clarify and improve the appearance of clogged up pores. It's common in skin soothing regimens in addition to helping to lighten your skin, and improve the appearance of dark spots, discoloration, blotchiness, and redness. The high levels of linalool and linalyl acetate found in Lavender oil make it helpful for a whole list of things (don't take my word for it though, look it up!) like improving the appearance of wrinkles. Clearly there are a lot of benefits that can come from using it topically. Just make sure you do a spot test to test for any sensitivity your skin may have to it before you go applying it all over.

Your skin has a major role to play in how healthy and beautiful you look. Skin blemishes of all sorts can leave you feeling self-conscious and uncomfortable, both physically and mentally, so it's always nice to have a quick fix ready to go if you find yourself facing some skin troubles. When it comes to the topical application of pure Lavender essential oil or our Soothing essential oil blend, you have a few different options to choose from.
To apply Soothing, you have two main options for topical applications. The first option is to apply a small amount of the oil to an adhesive bandage. The second method is to dilute the oil in a carrier oil and apply it topically. This second option is especially helpful if you want to improve the appearance of sensitive skin or stretch marks.
For Lavender, use a carrier oil, such as our Organic Fractionated Coconut Oil, and create a 2-5% dilution. For a 2% dilution, add 2 drops of Lavender essential oil to 1 teaspoon of coconut oil. For a 5% dilution, you would add 5 drops of the oil to 1 teaspoon of coconut oil. Once you've achieved your desired concentration, apply it topically to the desired area.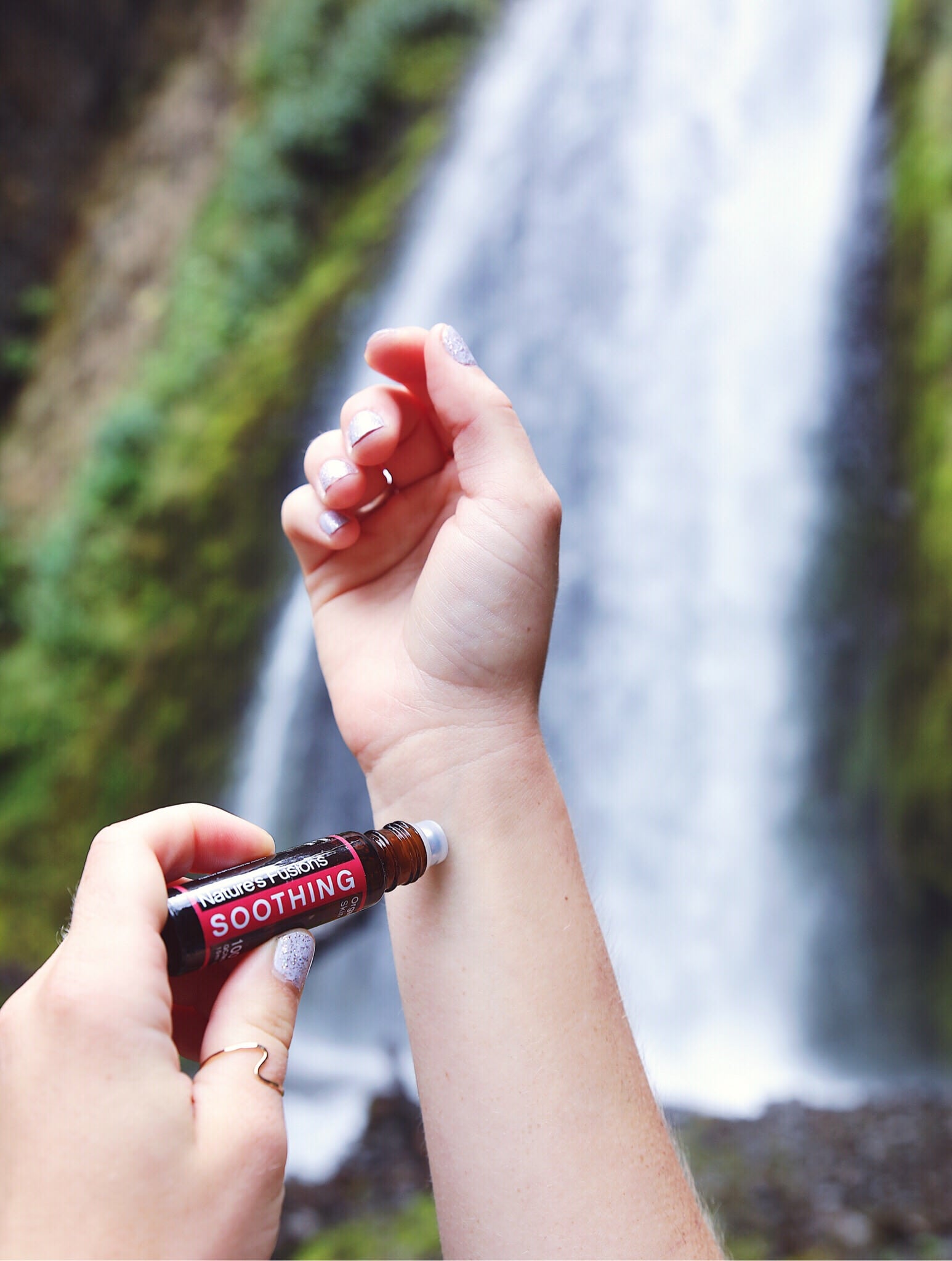 When people talk about being comfortable in your own skin, they usually mean it metaphorically, but being literally comfortable in your own skin is important too. Come sunshine or snow, we've got you covered with essential oil blends like Soothing and pure essential oils like Lavender. Curated specifically with the purpose of soothing and caring for your skin in mind, using them really is an investment in your own wellbeing.